50th Anniversary of the Centre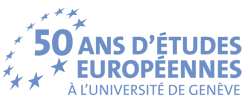 The Centre d'études juridiques européennes, created in 1963, celebrated its 50th anniversary in 2013. The former president of the Court of Justice of the European Union, Vassilios Skouris, held a conference on October 14th 2013 on the topic « Recent Developments concerning the Protection of Fundamental Rights in the European Union ».
 Watch the conference
---
On November 15th 2013, an international conference took place on the topic « The European Union in International Organisations and global governance. ». This event brought together public servants from several International Organisations (UN, WTO, ILO, WHO and WIPO), diplomats and University professors.
For more information, click here.
---
The presentations of this conference have been published in the book "The European Union in International Organisations and Global Governance. Recent Developments.", Oxford, Hart Publishing, 2015
---
Finally, a book on the creation of the Centre, its activities and the people that have "made" the CEJE was published in October 2013 and can be accessed online.
 Consult the book